Home » Sportsbook »
Unibet Sportsbook Review
Casino Promo Code – September 2023
No Deposit Bonus: .
Free With Deposit: .
Deposit Match Bonus: .
Total Bonus: .
Minimum Deposit: .
What we like
Unibet established a strong reputation as one of the leading sportsbooks in Europe before their expansion into the U.S market back in 2018, and with decades of experience in the industry, they've been an excellent addition to the space.
Initially introduced in New Jersey before stretching their influence into Pennsylvania, Indiana, and Virginia. Unibet has plenty to offer for both experienced bettors and newbies to sports betting.
Unibet's sportsbook delivers a smooth betting experience through its desktop site and accompanying mobile app, with a superb range of sports, competitive odds, and bags of interesting promotions to get the juices flowing.
Below, we examine the good and the not so good of what they have to offer in our Unibet sportsbook review.
Unibet Sportsbook – how do they stack up?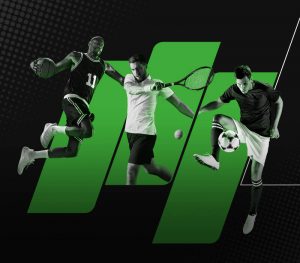 First of all, it would be remiss of us not to mention just how influential Unibet have been on the entire U.S. online sports gambling industry. Kambi – the company's white-label sportsbook platform – is the driving force behind BetRivers, Barstool, Parx and even DraftKings, so it's pretty apparent that Unibet is one of the leaders in the field.
That means for Unibet's end users is that their interface and sportsbook will make for familiar reading for bettors who game with any of the aforementioned giants.
However, Unibet has the edge on some of its competitors when it comes to its creative promotions and unusual lines and odds.
Unibet is also a match for just about anyone when it comes to the variety of sports they cover. For example, with Unibet, customers can bet on the following.
Athletics
Aussie Rules
Badminton
Baseball (MLB, Mexico)
Basketball
Boxing
Cricket (T20 World Cup, International Twenty20, Ashes, and more)
Cycling (Tour de France, Vuelta a Espana, etc.)
Darts
Football (NFL, NCAA, CFL)
Golf (US PGA, European Tour, Champions Tour, Ryder Cup, and more)
Handball
Ice hockey (NHL, World Championship)
Mixed Martial Arts (UFC, Bellator)
Motor Sports (F1, NASCAR)
Olympics
Rugby League
Rugby Union (Six Nations, World Cup)
Snooker
Soccer (MLS, EPL, UEFA, Italy, Spain, World Cup, and many domestic leagues)
Table Tennis
Tennis (WTA, ATP, ITF)
Volleyball
And much more!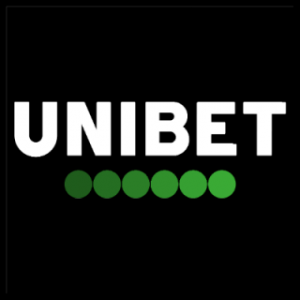 Welcome Bonus
New customers who want to bet with Unibet have two exciting incentive offers to consider.
Fresh registrants will be handed $20 in free bets just for signing up –  and best of all – Unibet won't ask you to make a deposit first. Instead, the $20 bonus is divided into two equal free bets of $10 each, and though you can't withdraw the free bet as cash, any winnings you generate using the bonus are yours to bank.
That isn't where it starts and ends for sign-up offers with Unibet however.
New bettors can also claim a risk-free real money bet with a maximum value of $250 following your initial deposit. So what does that mean exactly? Well, it means that you can make a real, genuine wager of up to $250, and if your bet doesn't land, Unibet will credit the value of your bet straight back into your account in the form of bet credits, which you are free to use on-site.
Naturally, some more experience online bettors might yearn for a more standard matched deposit bonus. However, Unibet's new account offers could appeal to those starting in the game. Their promotions essentially allow you to have a free hit at their markets with little financial commitment.
Promotions at Unibet Sportsbook
Unibet likes to change things up throughout the season and between sports when it comes to their other promotions and special offers. Below, we've compiled a sample of the kind of bonuses and offers you can expect to find at Unibet.
$100K Parlay Offer: During Unibet's $100k Parlay promo, bettors who place a six-team pro sports multi-selection parlay worth $10 or more qualified for a whopping $100,000 prize if every leg in their accumulator won by at least a 9.5-point margin above the regular spread.
Happy Hour Boosts: Unibet regularly offers its customers happy hour odds boosts, usually involving local teams in the user's region or state. What that means in simple terms is that players in Philadelphia might get an odds boost offer on a Phillies game, while bettors in New Jersey might get treated to a boost when the Jets are on.
Weekly Parlay Boost: Unibet's weekly parlay boosts bump up the three-leg bet payouts by 10%, four-leg parlays by 20%, and anything with five legs or more by a huge 30%. Every selection must have odds of -500 or better, though a maximum cap of $5,000 per bonus takes something away from an otherwise great offer.
$5K Betting Championship: We really liked this one. During a French Open tennis tournament, Unibet launched a betting championship, where Unibet rewarded customers with points every time one of their bets on the competition hit the mark. At the end of the tournament, the customer with the most points won $1,000 while another $4,000 was shared among the best of the rest.
Weekly Deposit Reload: Unibet is big on customer loyalty and repeat play and with their Weekly Deposit Reload, they offer a sizeable 25% bonus worth up to $50 to customers who reload their accounts with cash.
Where is Unibet Sportsbook legal?
Unibet seems to be another sports betting website company that is expanding across the country. It is currently available in the states of New Jersey, Pennsylvania, Virginia, Iowa, Arizona, and Indiana. It's also available in Ontario, just north of the border.
How to Sign Up at Unibet Sportsbook
Unibet make the registration process a breeze, though like the majority of their rivals, you'll need to have the following information ready to complete all the necessary steps:
Name
Date of birth
Address
Email
Phone number
Social Security number
Once all of your details are in, you'll create your own unique username and password, along with the standard handful of security questions to give your new account an extra layer of security. Once you've confirmed your date of birth, you should be up, running and ready to game with Unibet.
Unibet uses geolocation tech to make sure players are betting within eligible state borders. This is nothing to worry about. It's a legal requirement and is standard procedure for all sportsbooks licensed to run online in the U.S.
Unibet Sportsbook overall user experience
Website/Desktop
Readers familiar with other major online sportsbooks will feel right at home with Unibet. Their interface matches up with many of their rivals in terms of layout, functionality, and navigation.
You'll find a list of all the leagues and sports available along the left-hand side of the screen and all the lines and odds offered for your selected event smack bang in the middle.
Unibet likes to keep things simple and uncluttered – something that we and other experienced bettors will definitely appreciate.
Their green, black and white color scheme is also easy on the eye and users will find accessing Unibet's secondary markets including futures and props a relatively stress-free exercise.
The design and feel of the site are certain to appeal to bettors of all experience levels and it ranks as one of our favorite sportsbooks to surf.
Unibet sportsbook mobile app
Unibet carries a nifty mobile app for both iOS and Android users for bettors who like to wager on the go. Initially launched with casino games only, the app later added sports betting to its product offering, which means that customers didn't need to download a second app to expand their gaming horizons.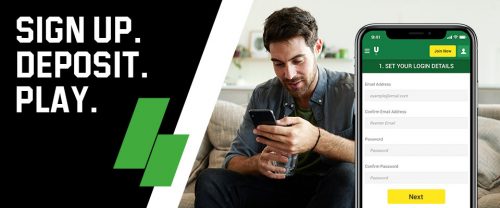 You can find the app really easily by searching for it by name in the App Store or Google Play Store depending on which platform you operate. If you prefer, you can go and get the latest version direct from Unibet.com
Much like the desktop version, Unibet's app is a pleasure to use. Bettors have all of the same info, markets, and lines available and they are presented in a way that makes it easy to peruse.
The app's in-game wagering setup is also a joy to use, with digital game trackers, real-time stats, and continuous updates at your fingertips.
We didn't experience any lag, freezing, or other technical issues while using Unibet's app – something that we think you'll also appreciate.
Games available with Unibet Sportsbook
With Unibet, you'll find all the markets and lines and bet types that you would expect to discover while betting with any major sportsbook. The kinds of bets you'll be able to place include, but are not limited to:
Spreads
Futures
Teasers
Live betting
Moneyline
Totals
Parlays
Props (game and player)
Cash out betting
Live in-game wagering with Unibet
In-game wagering is a massive part of online betting worldwide and Unibet doesn't let fans of live-action punting down.
Their in-play interface provides live statistics, up-to-date data and cool animated graphics to help you keep right on top of play. That's a handy feature for users who are in-game wagering on field sports like soccer and the NFL.
Their betting options for in-game wagering included standard outcome wagers, game totals, next team to score and "Action Betting" markets, which are lines that usually resolve in a minute or less.
Quality of the odds at Unibet
Generally speaking, the quality of the odds and lines available with Unibet are high. Our research shows that their moneyline odds are often above average compared to its competitors in New Jersey, Pennsylvania, Indiana and Virginia – something that will be music to the ears of savvy bettors on the lookout for the best value.
Unibet is also onto a winner with their prop betting odds, which are some of the best you'll find anywhere. It's worth noting that Unibet has a reputation for running with pretty slim margins. However, they are happy to pass on the extra value to its customers through their superior pricing and lucrative bonuses.
Unibet Sportsbook Rewards
Unibet Sportsbook currently does not have any loyalty or rewards programs.
As a result, it ranks among the outliers, as many other online operators provide extra benefits for users to keep playing. We'll see if that shifts in the coming years, but for the time being, Unibet doesn't have a VIP program.
Banking options at Unibet Sportsbook
Unibet Sportsbook offers the usual deposit and withdrawal methods collection to their customers, depending on your preference.
Deposit
ACH (e-check)
Cash at the retail casino cage
Cashier's check
Credit and debit cards (Mastercard, Visa)
Online bank transfer
PayNearMe
PayPal
Personal check
Unibet Prepaid Play+ card
Withdrawal
Cash at the retail casino cage
Online bank transfer
PayPal
Unibet Prepaid Play+ card
While Unibet's withdrawal options could never be described as restrictive, they do offer fewer options than some of their competitors. Having said that, there are enough options available for the majority of users to make withdrawals pretty easily.
What kind of support will be available with Unibet Sportsbook
Unibet Sportsbook offers 24-hour live chat and phone support to its customers, while you can also reach them via email and their comprehensive FAQ which also features a dedicated help section.
If there is a little blot on the copybook for Unibet, they make their support information difficult to locate. You'll have to go rooting to find the contact info you're looking for and we have read some complaints online about how long their customer service department takes to respond to queries.
Unibet can definitely make some improvements in that regard.
FAQ Unibet Sportsbook
Which states are offering betting with Unibet?
Unibet is currently available in Indiana, New Jersey, Virginia and Pennsylvania, though further expansion in the U.S. is planned
Is Unibet sportsbook legit?
Yes. Unibet is a reputable, legitimate sportsbook with decades of experience.
Where is Unibet legal in the USA?
Unibet is currently available in Indiana, New Jersey, Virginia and Pennsylvania,
Is Unibet regulated?
Yes. Unibet is fully regulated and licensed in the U.S in Indiana, New Jersey, Virginia and Pennsylvania,
Does Unibet provide a loyalty program?
No. There is no loyalty program currently available for frequent play at Unibet.
Do Unibet's risk-free bet and free bets promotions require promo codes?
No, there is no promo code required. The free bets will be automatically added to all new eligible accounts once terms and conditions are met.
How old do I have to be to bet with Unibet?
All bettors must be at least 21 years of age.
Does Unibet accept PayPal?
Yes, PayPal deposits are accepted, but are valid only from personal U.S. accounts. You must have an active bank account linked to your PayPal account however.
Does Unibet offer a mobile app?
Yes. You can download the Unibet Sportsbook app for both Android and Apple iOS
Conclusion
Unibet make their decades of experience in the industry count and they are easily ranked as one of the top online sportsbooks available in the U.S.
With a slick user experience on both desktop and mobile, tons of cool features and some of the best lines and pricing around, any bettor weighing their options up should consider opening an account with Unibet.
While their customer service needs work, it shouldn't take away from the overall high-quality product that Unibet delivers to its users.